We are
Whole Animal
Heritage Butchers
Whole animal is a whole lot better. It's better for the land, the animal, and the farmers and ranchers. And it tastes better! Western Daughters is committed to a humane and pastured life for the animals that come through our doors and a delicious and wholesome start for the food that goes through yours.
Grassfed And
Pasture-Raised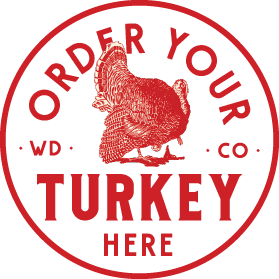 TURKEYS
It is that time of year again, time to start thinking about placing your order for your Thanksgiving turkey and you are in luck! We are carrying the same beautiful heritage pasture raised birds that we carried last year. Click on the button above to order your turkey now.
ORDERS FOR PICK-UP and DELIVERY
COVID 19 Update: The shop is open! Additionally, meat boxes available every day for pick up and local delivery. Fresh Reunion Bread brioche buns are available every weekend. CSA shares temporarily sold out but will be returning soon. Click here to find out more about programming and place an order.