We packed
flavor, convenience, and
transparency
all in one box.
Fresh, Local, Grass-Fed, and Pasture-Raised Meats custom cut just for you by our trained butchers.
It's easy. Each box is $105-$240 dollars and has 12-20 pounds of meat, an average of $10.75 per pound. It comes fresh, never frozen, and you pick up at the shop at a regular interval that you choose. That means that you can mix up which boxes you get and how often. If you subscribe to 4 or more installments, we give you a 5% discount.
Each box comes loaded with fresh and seasonal cuts straight from your butcher. Each cut is vacuum-sealed to ensure maximum freshness and makes freezing a cinch. Now all you have to do is get cooking. Worried about whether or not it fits with your diet? Don't. All of our meat is gluten-free, dairy-free, and perfect for everything from elimination diets, to Whole30, and Paleo.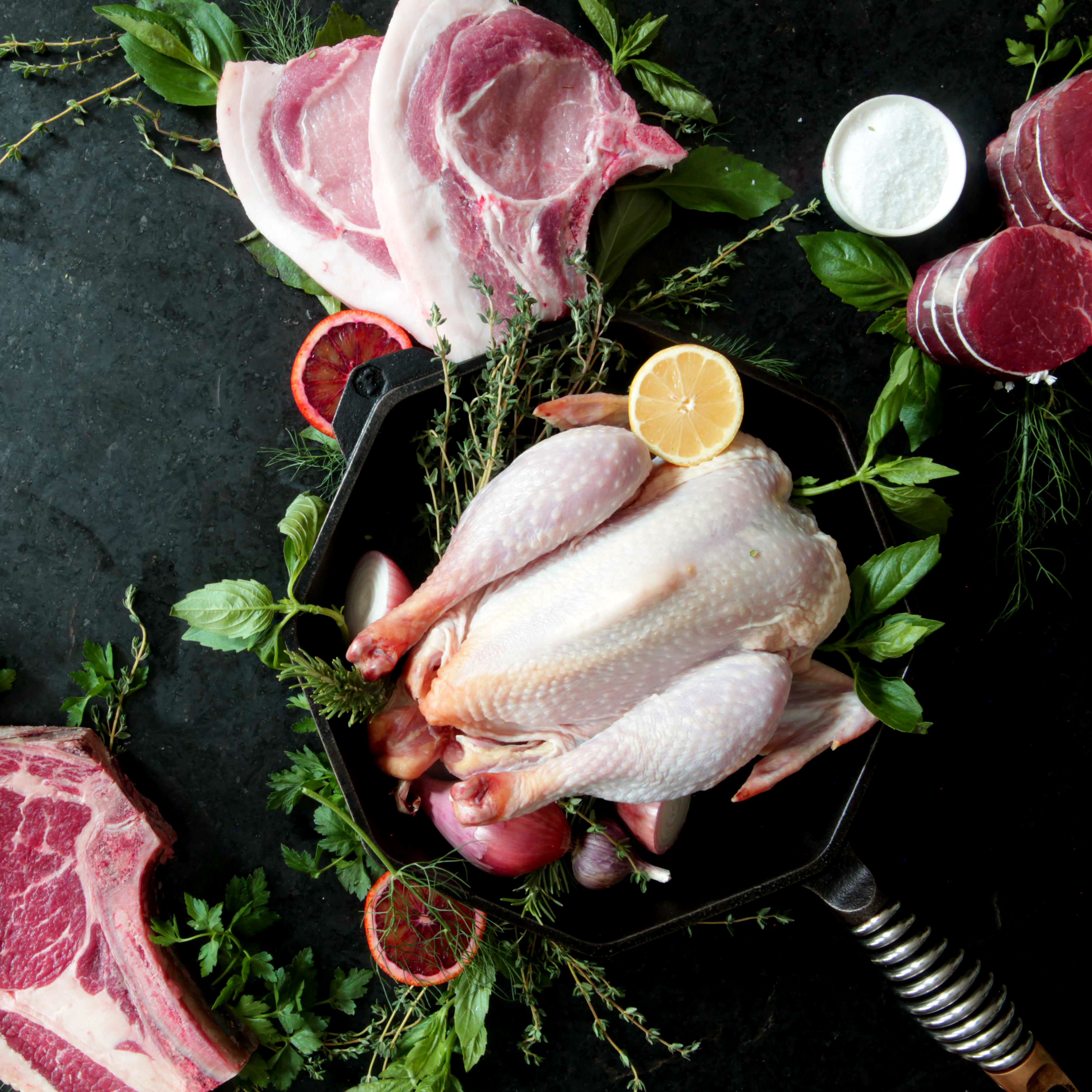 FLAVOR
We care about meat that's delicious because we know that flavor matters. We specialize in tender and marbled grass-fed and pasture-raised meats that taste better than anything you've had before. We even have our own dry-aging program to sweeten the deal, delivering grassfed steak with an extra depth of flavor. Every hand cut steak is fresh, so that it's easy for you to just add salt and heat for a simple meal knowing that you're catering to your taste buds while fueling your body with quality protein and healthy fats with a great omega-3 to omega-6 ratio. Had grassfed meat and not liked it? We challenge you to try ours. The fat and the raising practices mean the flavor is well-rounded, beefy but subtle, and the texture is out of this world.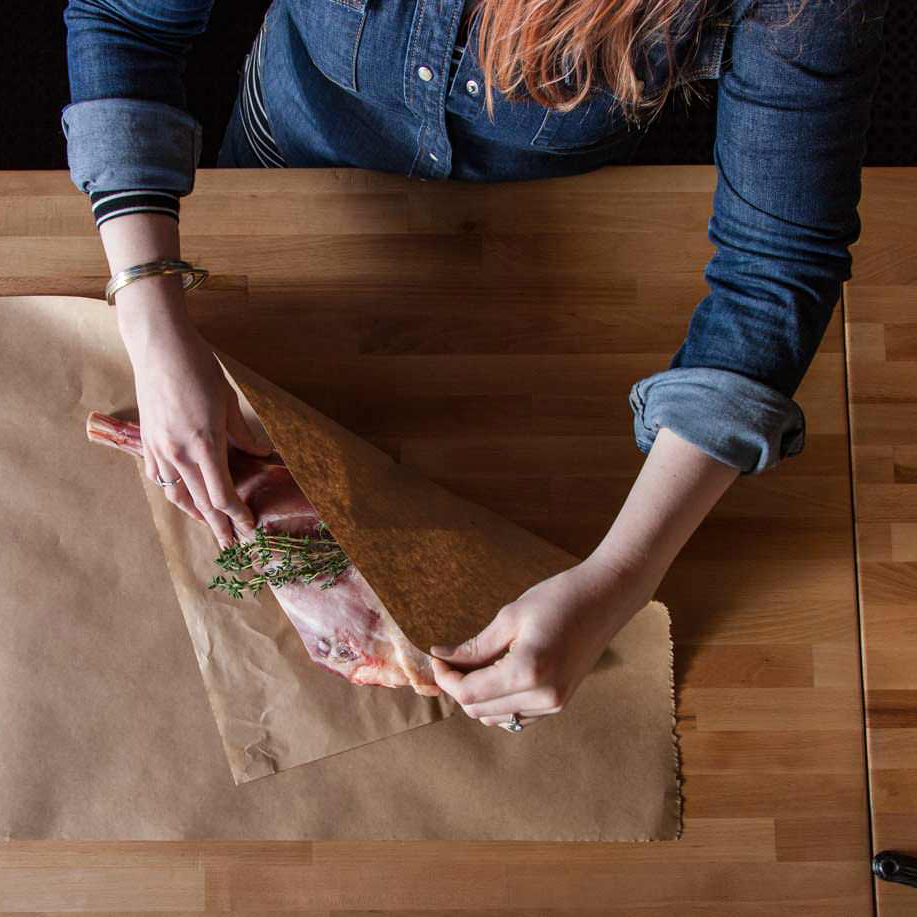 CONVENIENCE
You love having a neighborhood butcher that knows the farms your meat is coming from and that can help you navigate new and exciting cuts and how to cook them, but you're busy living your best life. You want to play as hard as you work and that means decreasing the time you spend running errands and increasing the time for your side hustle. We hear you. Your meat club box is ready for pickup at our shop on Fridays, each cut vacuum sealed so it can move between fridge and freezer seamlessly.
TRANSPARENCY
You keep seeing companies advertise things like grass-fed beef and sustainable practices but you want a closer connection to the farm. We've been serving up transparency for the last 4 years and our butchers are here to answer every question you have from farm to table. By sourcing locally and butchering every animal ourselves, we're able to have a direct relationship with our farmers so that we can ensure our beef and lamb are 100% grass-fed, our pork and chicken are pasture-raised, and that every hand-cut steak is antibiotic, hormone, and GMO free - all while minimizing waste. All of our ranch partners are within 150 miles and employing holistic land management practices. You came to us because you care about the details and we do too. Want to learn more about the details? Just ask. We are always excited to share information about our incredible farm and ranch partners and our own methodology.
THE DETAILS, THE NITTY GRITTY
Our beef and lamb are 100% grass-fed and never given grain. They come from local ranches that have as much a mind for the welfare of their animals as they do for the stewardship of their land. Every ranch is striving to use regenerative land management practices.
Our pork and chicken are pasture-raised. What does that mean? To us, it means that animals have 24/7/365 access to dirt and sunshine. These animals are rooting around on the dirt and grass and have access to shelter during cold snaps.
Our animals are never given sub-therapeutic antibiotics or hormones and all supplemental feed is non-GMO. All of our cattle ranches grow their own grass that they turn into hay for winter feed.
None of our animals are certified Organic. We ensure, however, that they are all raised BEYOND organic standards. This means that pesticides and herbicides are never used on land or feed, that their access to dirt and sunshine and shelter is unfettered, and that our slaughterhouses follow animal welfare approved standards.
We bring in whole animals and butcher them in our facility, which means that we cut to our standards to minimize waste and ensure more fun interesting cuts for you!
We are committed to farmer welfare as much as we are to animal welfare. We ensure that at least thirty cents of every dollar you spend with us goes directly back to a farmer. That's more than twice the national average.
Concerned about carbon and methane emissions? So are we. Our farmers employ grazing techniques that help build up grass on their pastures, which in turn helps sequester carbon in the soil. It also helps the soil hold more water, lose less topsoil, and helps diversify ecosystems. As for methane, cattle that only eat grass produce substantially less methane in their lifetime.
HOW DOES IT WORK?
So you want to become a meat club member, what's next? Following the prompts, you choose the box that fits your needs for your pick up. Choose the payment method. Your meat club subscription is ongoing so it renews after each delivery but you can pause it at any time through your account dashboard and will not be charged again until your next pickup.